Moonlight's Delights

Golden Chanterelle Mushrooms

Pacific Golden Chanterelles (Cantharellus formosus)

Purchase Fresh
Chanterelles

Buy Dried
Chanterelles
The Yellow or Golden Chanterelle Mushroom has been popular thoughout the world for centuries. Chanterelle Mushrooms are favored for their apricot fragrance and delightful flavor which is complemented by the mushroom's light meaty texture. Yellow Chanterelles are often sauteed and made into a Chanterelle Garlic Butter for bread, a Wild Mushroom Gravy, or added to rice and rissoto dishes. Chefs who choose to feature the Golden Chanterelle Mushroom as the main course have many options. Eggplant, roasted chicken, and cod all lend themselves well to the flavor of chanterelle mushrooms.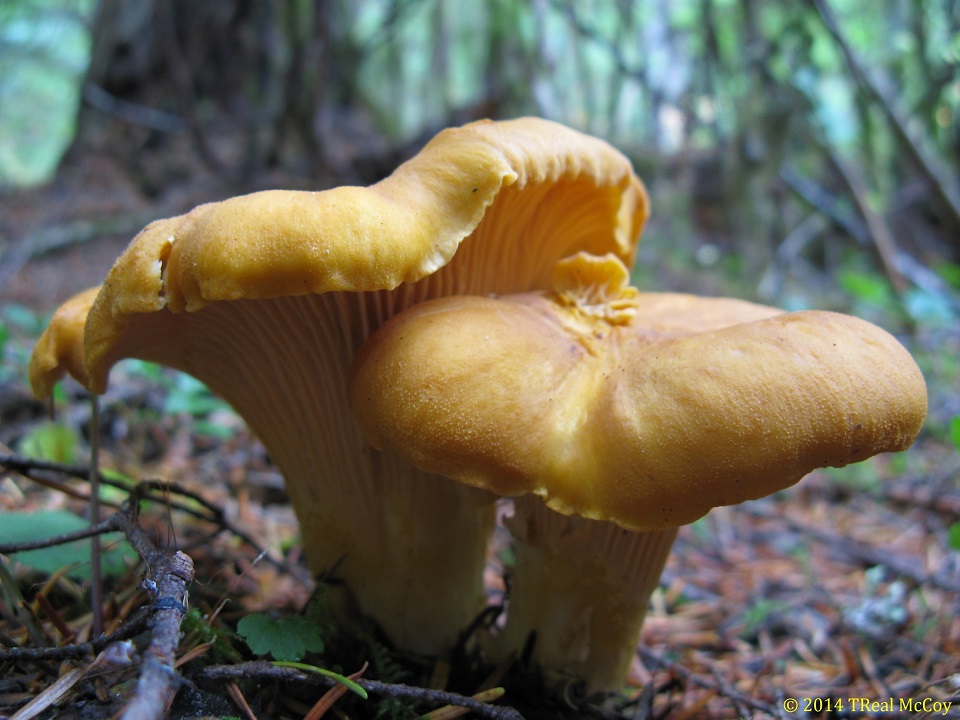 The Pacific Golden Chanterelle (Cantharellus formosus) is a beautiful edible wild Mushroom often referred to as the "Queen of the Forest". Yellow Chanterelles are one of the most popular gourmet mushroom varieties. Chanterelle mushrooms in the pacific northwest are very easy to identify and grow in symbiotic realitionships with live trees. Our Chanterelle Mushrooms are harvested in the late summer and fall under douglas fir and hemlock in the cool misty mountains of the Pacific Northwest.
Sweet and Sour Chanterelles
1 pound Fresh Golden Chanterelles sliced into 1" thick slices
1 cup Flour
1 tsp. Baking Powder
&frac12 tsp. Salt
1 Egg
1 cup Skim Milk or Plain Soy Milk
&frac14 cup Canola Oil
Combine all ingredients except for the Chanterelles. Blend together with a beater until smooth. (Start with a low speed then progressively go higher.) Coat sliced Chanterelles in batter. Heat fryer oil to 375 degrees and fry batter dipped Chanterelles. Garnish with slivered almonds or sesame seeds and of course dip in your favorite sweet and sour sauce. Enjoy!
Copyright © Moonlight's Delights 2005-2016 All Rights Reserved